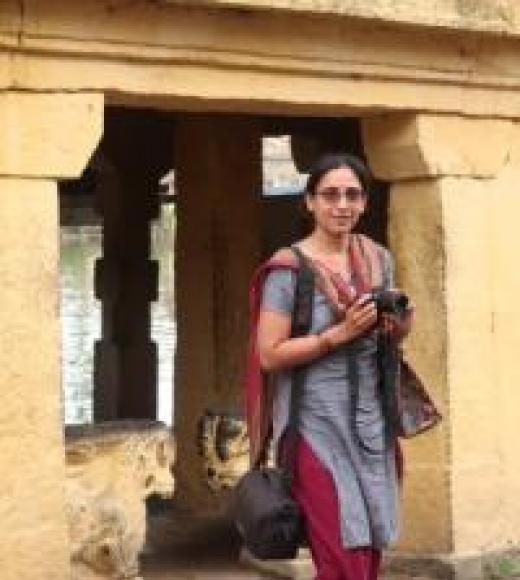 Position Title

Professor of Religious Studies and Comparative Literature

Chancellor's Fellow (2014-2019)
Office Hours
Wednesdays 9:15 am - 10:15 am & Thursdays 4:40 pm - 5:40 pm. I will be holding in-person office hours.
Bio
Education and Degree(s)
Ph.D.,

 

University of California, Berkeley, 2004
M.A.,

 

University of California, Berkeley, 2000
B.A. ,

 

University of California, Berkeley, 1997
A.A.,

 

De-Anza College, Cupertino, California, 1995
Research Interests:
Tamil Vaishnava (Alvar) poetry, South Indian performance, Women and Goddess traditions in India
Courses Taught
RST 68: Introduction to Hinduism
RST 69: Introduction to Hindu Mythology
RST 156: Religion and the Performing Arts in India
RST 157: Women and Goddesses in India
COM 6: Myths and Legends
COM 53B: Literature of South and Southeast Asia
COM 156: Ramayana
COM 210: Courtesans in Literature
COM 180S/COM 198: Summer Program in India
Selected Publications
In Andal's Garden: Art, Ornamention and Devotion in Srivilliputtur. Marg Publications, 2015. [with Crispin Branfoot] 

"Speared through the Heart: The Sound of God in the Worlds of Tirumaṅkai." Journal of Hindu Studies. Forthcoming Winter 2018. 

"The Other Trinity: Alternate Histories of Carnatic Music." International Journal of Hindu Studies. Forthcoming, Winter 2018, pp. 122-166. 

"Making Saints, Making Communities: Nāyaki Svāmikaḷ and the Saurashtras of Madurai." South Asia: Journal of South Asian Studies. Vol. 37, No. 4 (Dec. 2014). pp. 1-18.

"Āṇṭāḷ of a Thousand Names: The Making of a Goddess the Śrīvaiṣṇava Way." Voyages of the Body and Mind: Selected Female Icons from India and Beyond. eds. Anita Ratnam and Ketu H. Katrak. Cambridge Scholars Publishing, 2014. pp. 10-18

A Hundred Measures of Time: Nammalvar;s Tiruviruttam. Penguin Classics, April 2014

A Tale of Two Cēvais: Araiyar Cevai and Kaittala Cevai at the Antal Temple in Srivilliputtur. Journal of Vaishnava Studies. Spring 2013

A Different Kind of Antal Story: The Divyasuricaritam of Garudavahana Pandita. International Journal of Hindu Studies. August 2013.

Ecstatic Seeing: Adorning and Enjoying the Body of the Goddess. Introducing Hinduismin Practice. Ed. Pratap Penumala. Equinox Press, 2012.

"Love and Longing in the Time of Rain: A Response to Anne Monius's Ecologies of Human Flourishing: A Case Study from Pre-Colonial South India. Ecologies of Human Flourishing. Ed. Don Swearer. Cambridge, MA: Harvard University Press, 2011.

The Secret Garland: Translations of Tiruppavai and Nacciyar Tirumoli. American Academy Texts and Translations Series, Oxford University Press, 2010.

How to Love God Like a Woman: Some Thoughts on Loving God in the Srivaisnava Sampradaya." Journal of Hindu Christian Studies Vol 20, 2007

"Who Stole the Garland of Love: Antal Stories in the Srivaisnava Tradition." Journal of Vaishnava Studies. March 2007 (Invited Paper)

Fuller. C.J.

 

The Revival of the Priesthood. Princeton: Princeton University Press, 2003. In

 

Journal of Religion, March 2007.
Raj Selva and William Harman, eds.

 

Dealing with Deities. New York: State University of New York Press, 2006. In

 

International Journal of Hinduism, March 2007.
"Aesthetics," "Drama" and "Television and Radio" in

 

Routledge Encyclopedia of Hinduism. eds Denise Cush, Catherine Robson, and Lynn Foulston. New York: Routledge Press, 2007.
Current Projects
I am currently working on an interdisciplinary collaborative project on the Nava Tirupati, a network of nine Vishnu temples in Tirunelveli, Tamil Nadu. My collaborators are Dr. Crispin Branfoot (SOAS, London), Prof. Leslie Orr (Concordia University, Montreal, Canada) and Prof. Anna Seastrand (University of Minnesota). 
I continue to edge closer to completing a translation of the Tiruvaymoli, a ninth century poem composed by Satakopan-Nammalvar. To date, I have completed translating 880 verses out of the 1102 verses that comprise the text. 
I've also begun my translation of the Sundara Kandam of the Kampa-Ramayanam, and am enjoying the new experience of working with narrative poetry. 
Translating is my life-breath, and I try to translate every day.
I also run the Religions of India Initiative, about which you can read more here: religionsofindia.ucdavis.edu
Honors and Awards
Guggenheim Fellow 2018
Davis Humanities Network Collaboration Fellowship
American Academy of Religion Collaborative Fellowship
Fulbright Flex Fellowship
Shivdasani Fellowship, Oxford Center for Hindu Studies
National Endowment for the Arts
National Endowment for the Humanties
American Institute of Indian Studies
Hellman Foundation Grant
Fulbright (Declined)
American Academy of Religion Grant
Hellman Foundation Grant
UC Davis New Research Initiatives Grant