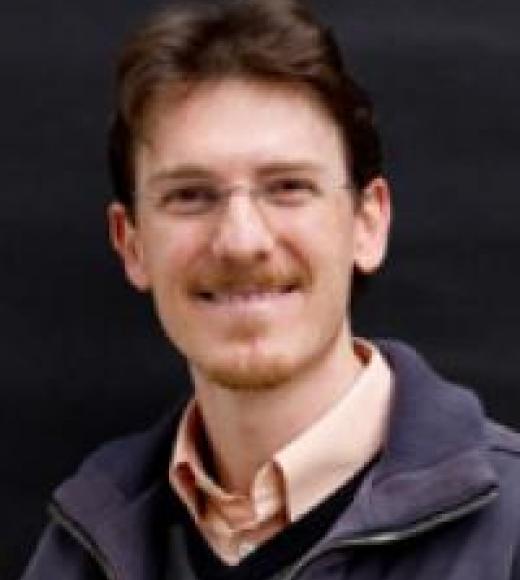 Position Title

Graduate Student in Comparative, Literature Associate in Italian
Unit

Comparative Literature

French and Italian
Bio
Adviser(s)
Brenda Deen Schildgen, Juliana Schiesari, Ralph Hexter, Michael Subialka, Jane Tylus
Education and Degree(s)
Graduate Degree (Dottorato) in Humanism and Renaissance Civilization,

 

Istituto Nazionale di Studi sul Rinascimento (National Institute of Renaissance Studies), Florence, Italy
M.A. in Philosophy,

 

Università degli Studi di Firenze (University of Florence)
Research Interest(s)
Italian Language Courses (elementary, intermediate, conversational, advanced, literature and culture)

Italian Literature from the Origins to the XX Century
European philosophy and theology from antiquity to the Early Modern era
Women and gender studies
Reception studies (Dante, Petrarch and Boccaccio in Early Modern Europe)
Literary canonicity
Spiritual literature
Teaching Experience
ITA 3: Beginning Italian, Spring 2019
COM 2: Major Books: From the Middle Ages to the Enlightenment, Winter 2019
ITA 1: Beginning Italian, Fall 2018
COM 14: Introduction to Poetry: The Reception of the Italian Three Crowns (Dante, Petrarch, Boccaccio) in Late Medieval and Early Modern Europe, Spring 2017
ITA 2: Beginning Italian, Winter 2017
ITA 1: Beginning Italian, Fall 2016
COM6 (TA): Myths and Legends (Prof. Archana Venkatesan), Spring 2016
COM5 (TA): Fairy Tales, Fables, and Parables (Prof. Brenda Schildgen), Fall 2015
COM 10 (B, D, G): Master Authors in World Literature, a.a. 2014-2015
COM 180S & COM 198: Italian Renaissance and the Birth of Modern Europe, UC Davis Summer Study Abroad Program, Florence (Italy), June-July 2014
ITA 113: Dante Alighieri's Divine Comedy (in Italian), Spring 2013
Profile
Leonardo received an M.A. in Philosophy from the University of Florence and a Graduate Degree (Dottorato) in Humanism and Renaissance Civilization from the National Institute of Renaissance Studies in Florence. After moving to California in 2009, he has been teaching Italian language and culture at all levels. In the Department of Comparative Literature at UC Davis he intends to pursue a PhD with concentration in Italian literature and Designated Emphasis in Classics and Classical Reception. His research interests focus on the intersection of philosophy literature and spirituality in Medieval and Renaissance Italy, with an emphasis on early modern women's spiritual writing. He is currently working on three main projects: 1) gender, violence, and narrative strategies in Boccaccio's Decameron; 2) early modern religious women and their reception of Savonarola's spiritual reform; 3) Italian spiritual poetry between XV and XVII cent. His doctoral dissertation project consists of providing a critical edition and English translation of the somewhat understudied poetic collection Rime sacre [Sacred verses] (Venice, 1603) by the Venetian writer Lucrezia Marinella (1571/9-1653), a key achievement in the writer's hagiographic project of empowering an engendered ideal of female saintly heroism in an elegant and sophisticated Petrarchan style.
Languages
Italian
English
French
Latin
Old Greek
Selected Publications
"I libri e le masserizie del priore Lorenzo Guiducci: due inventari quattrocenteschi", Medioevo e Rinascimento 15 (2004): 241-297.
"Profilo di Lorenzo Guiducci", Il capitolo di San Lorenzo nel Quattrocento, Convegno di Studi, Firenze, 28-29 marzo 2003 (2006): 221-251.
(co-authored with Marcello Simonetta) "Il diario di Lorenzo Guiducci, priore di San Lorenzo (1492-1496)" ["The diary of Lorenzo Guiducci, prior of St. Lorenzo (1492-1496)"], in Rivista di letteratura storiografica 1, 2017: 47-81
"Aristotele nel chiostro. Un episodio inedito della ricezione umanistica fiorentina dell'Etica Nicomachea" ["Aristotle in the cloister: an unknown episode of the Florentine humanistic reception of Nichomachean Ethics"], Viator 48 no. 3 (2017): 293-331.
"Engendering mysticism and stigmatization: Lucrezia Marinella's four sonnets to Catherine of Siena «piagata da Christo»," Annali della Scuola Normale Superiore di Pisa. Classe di Lettere e Filosofia, serie 5, 2018, 10/1: 89-110.
" «Colei che 'l mondo e 'l Cielo empie di luce:» Mary's glorification and poetic fame in Lucrezia Marinella's spiritual poetry," in Genealogìas. Re-Writing the Canon: Women's Writing in XVI-XVII Century Italy, ed. Stefano Santosuosso, Valencia, ArCiBel Editores, 2018: 173-197.
Honors and Awards:
UC Davis Graduate Scholar Provost Fellowship 2013-2014
UC Davis Comparative Literature Graduate Program Fellowship Stipend (Winter, Spring, Fall 2015, Spring 2016)
UC Davis Graduate Student Travel Award 2016-2017
UC Davis Provost's Dissertation Fellowship for 2017-2018